You might have heard or read that Steve's new musical project "80s Pioneers" which he is not just the curator for but also the musical director & multi-instrumentalist of will be performing at POPHELDEN FESTIVAL in Berlin at the IFA Sommergarten on September 7.
The supergroup "80s PIONEERS" features some of the finest musicians of the decade.
It will be a fab night filled with nothing but the greatest songs of Marc Almond, Spandau Ballet, Paul Young, Cutting Crew, Limahl, T'Pau and Rusty Egan spinning the decks. We have an amazing backing band and are so proud to be headlining the festival.
Howard Jones & Wet Wet Wet will also be performing.
Tickets can be purchased here: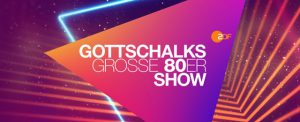 And today we announced a second performance of the "80s Pioneers" in Germany. It is for a big TV show and it happens to take place a day before the Pophelden Festival. What a brilliant coincidence!
We had to keep it secret for quite a while but now it is finally time to share the exciting news with you…
The "80s Pioneers" feat. Steve Norman, Carol Decker (T'Pau), Nick van Eede (Cutting Crew) and Marc Almond will be performing a medley at "Gottschalks große 80er Show" in Hannover on September 6.
The TV show is hosted by Germany's most legendary TV host Thomas Gottschalk. The backing band will be Germany's most popular TV show band "heavytones".
Other artists performing: Paul Young, Kim Wilde, Nick Kershaw, Katrina & The Waves, etc
The show will be broadcasted on German TV channel ZDF later in the year. As soon as we have the exact date we will of course share it with you all.
For those of you that cannot wait for the broadcast and would like to be there LIVE…it is the day before the big Pophelden Festival in Berlin – hint! hint!
And Hannover is only a 1 hour 40 minute train ride from Berlin.
Tickets can be purchased here:
TICKETS GOTTSCHALKS GROSSE 80ER SHOW
Bring it on, September! We are ready for you…